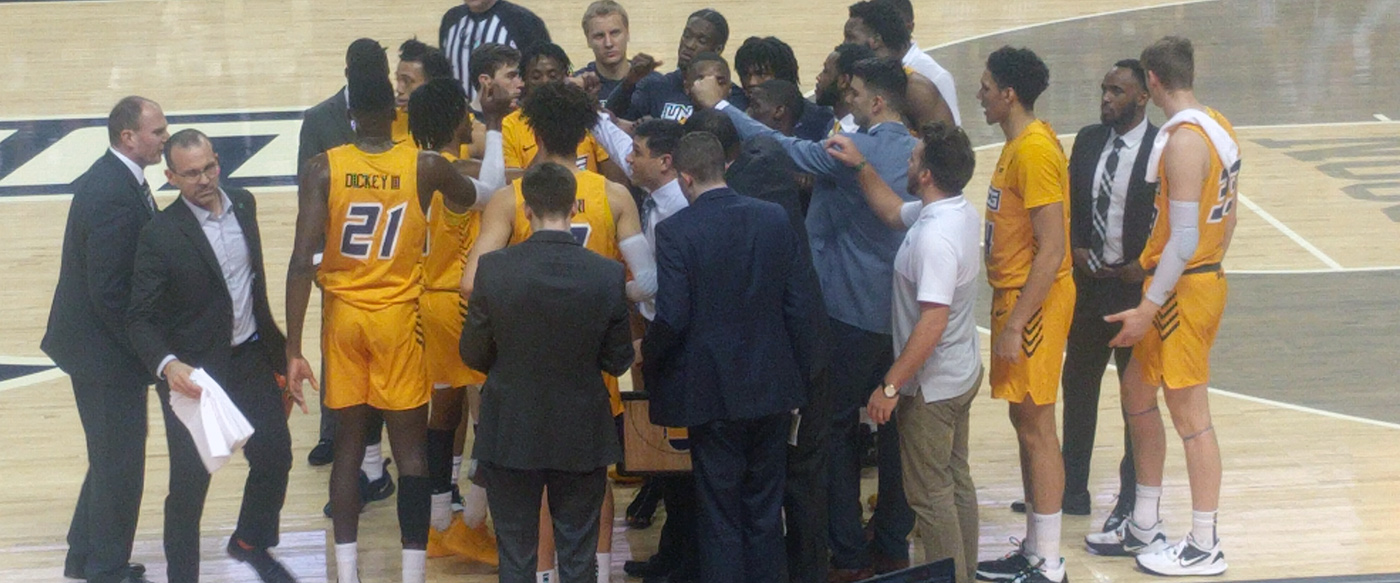 Unlike the contest in Cullowhee, Western never had a chance in this game. UNCG jumped on them from the opening salvo and never let up. The moment Western made a 6-pt run, UNCG answered with a flurry of defense and offense and extended the lead back.
And even though we didn't rack up the steals this game we normally do, we brought that same havoc. Western turned the ball over twice on 10-second half-court violations and threw it away at least once trying to beat the clock to get it across half-court. Defense not only travels, it works well at home too.
James Dickey
4-6 FG, 3-4 FT, 6 reb, 2 ast, 2 blk, 1 stl. James was much more aggressive toward the basket this game. I like that. Not as many rebounds, but he exerted his presence underneath.
Keyshaun Langley
5-8 FG (2-3 3PT), 2-4 FT, 2 reb, 2 ast, 1 stl, 1 to. Another banging performance from Key tonight.
Isaiah Miller
8-16 FG (0-3 3PT), 4-4 FT, 6 reb, 1 ast, 3 stl, 2 to. If Isaiah will stop forcing those one-handed floaters when he's stationary, he'll shoot 80% from the field. He only makes those floaters when he's moving toward the basket. Otherwise they come up short. You reading this, Zay? Watch the films … you'll see what I'm talking about.
Michael Hueitt Jr
3-7 3PT, 1 reb, 1 ast. Very efficient shooting from Hueitt again … along with a sweet little pass to Kyrin inside for an assist.
Kaleb Hunter
3-6 FG (0-1 3PT), 1-2 FT, 3 reb, 3 to. Decent night for Kaleb except for the turnovers.
Angelo Allegri
2-6 FG (2-5 3PT), 3 reb, 1 to. Gelo put up some good numbers this game.
Big Mo
1-2 FG, 1-3 FT, 6 reb, 1 ast, 5 blk, 1 to. Great rebounding from the big guy tonight, and he was fighting against one of the better big men in the league, Carlos Dotson.
Kyrin Galloway
2-6 FG (0-3 3PT), 3 reb, 2 stl. Kyrin wasn't shooting tonight like he has been. Thankfully, it didn't matter.
Malik Massey
2-4 FG (1-3 3PT), 2 reb 1 ast.
Bas Leyte
6 min – 1-1 3PT, 1 ast.
Kobe Langley
3 mins – 1 reb, 1 stl.
Khyre Thompson
1 min – no stats.
Ryan Tankelewicz
1 min – 1 block.
Game Summary
UNCG played 9 players at 17+ minutes. That's unheard of and speaks to the depth of our bench.
Rebounds: UNCG 36, Western 36
Bench Points: UNCG 35, Western 12
2nd Chance Pts: UNCG 10, Western 15
Pts in the Paint: UNCG 38, Western 34
Pts off Turnovers: UNCG 13, Western 9
Steals: UNCG 8, Western 4
Turnovers: UNCG 9, Western 12
Blocks: UNCG 8, Western 1
This next game Saturday at Mercer will be difficult. They just beat Wofford in Spartanburg while we were handling Western. They've also beaten the crap out of ETSU in Johnson City. We have to be careful and shut down their guards.