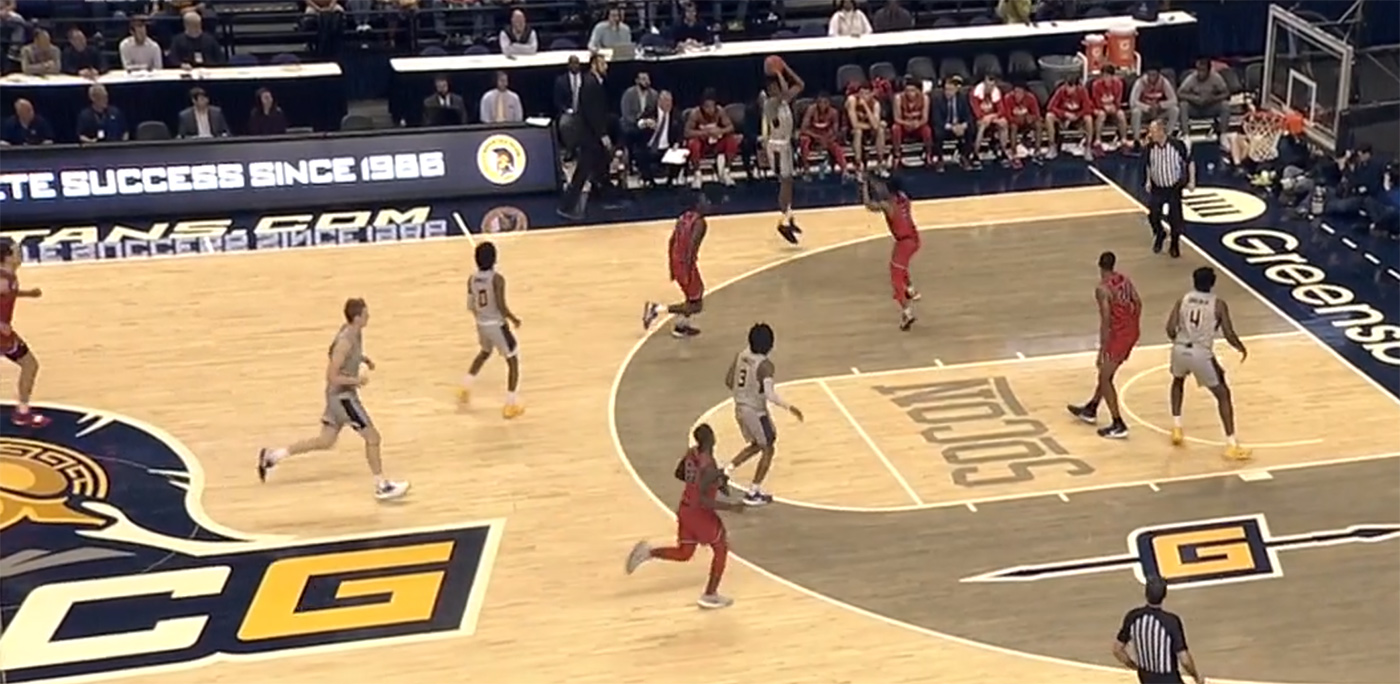 UNCG played 11 players over 8 minutes, and no one player was in the game for more than 26 mins. A true team effort that shows just how dangerous this team can be and how many weapons we have.
I had predicted a 30-point blowout with a 15-turnover advantage … I got a 28-point blowout with a 12-turnover advantage. I'll take it.
For some reason, Josh Sharkey didn't start either half and only played 22 minutes and eventually fouled out. In those few minutes in the game, he committed 7 turnovers and only scored 5 pts. Our guards harassed him so much that at one point, he committed a flagrant 1 when he pushed Keyshaun Langley off him so he could breathe.
And that's what it must feel like to be a guard going up against our defense, suffocating. Sharkey was frustrated beyond measure, and there were several times Sharkey just seemed to give up on the floor. This is the 2nd game in a row that freshman J.P. Robinson has started in front of Sharkey, so there's some turmoil behind the scenes in Birmingham. But honestly, I'm not sure it would have mattered if Sharkey started.
Kyrin Galloway
7-12 FG (5-10 3PT), 3 reb, 4 blk. Kyrin is killing it. Period. Along with these 4 blocks, he altered several shots, and turned away Samford guards who wouldn't dare try to get a layup near him.
Michael Hueitt Jr
4-9 FG (3-8 3PT), 3 reb, 1 ast, 1 to. Hueitt put these numbers up in 11 playing minutes.
James Dickey
6-10 FG (0-1 3PT), 1-3 FT, 16 reb, 3 ast, 2 blk, 1 stl, 4 to. JD is back on track toward getting the rebound record with this performance. When he was in the game, he was all over the ball.
Kaleb Hunter
7-11 FG (1-2 3PT), 1-2 FT, 4 reb, 1 ast, 1 stl, 1 to. I will officially claim that Hunter is completely healed. He is finally making decisions on the court based on "what's the best thing to do" without thinking of getting reinjured. When you play "to not get injured," your shots come up short and you play safe. Kaleb was aggressive and coy with the ball tonight, weaving toward the basket like the first few games of the season.
Isaiah Miller
5-16 FG (0-3 3PT), 0-3 FT, 3 reb, 1 ast, 1 stl. Isaiah's numbers don't show just how much he led this team this game. I know the stats say he only had 1 steal, but it felt like he was all over the court causing havoc. He does so much that can't get recorded in the stat books.
Keyshaun Langley
2-5 FG (1-3 3PT), 4-4 FT, 1 reb, 4 ast, 2 stl.
Angelo Allegri
3-4 FG (2-2 3PT), 2 reb. Gelo only played 8 minutes this game but he was the most efficient player on the court.
Malik Massey
1-4 FG (1-3 3PT), 3 reb, 4 ast, 1 stl, 2 to.
Bas Leyte
1-4 FG (0-1 3PT), 2-2 FT, 3 reb, 2 stl.
Big Mo
0-3 FG, 2 reb, 1 blk, 2 stl, 1 to.
Kobe Langley
1-5 FG (0-1 3PT), 0-1 FT, 4 reb, 2 stl, 2 to.
Khyre Thompson
4 mins – 2 reb.
Ryan Tankelewicz
2 mins – no stats other than a foul.
Game Summary
The team is playing its best ball ever right now. Injured players are regaining their confidence and contributing on a higher level and everyone is settling in. They seem to have figured a lot of stuff out and they're executing their gameplan, except for the blip at ETSU.
UNCG had 83 FG attempts to Samford's 49. That's absolutely amazing! We shot 34 threes to their 8, hitting 38%. 39 of our 95 points came from beyond the arc. Wow.
Rebounds: UNCG 48, Samford 34
Bench Points: UNCG 34, Samford 10
2nd Chance Pts: UNCG 27, Samford 7
Pts in the Paint: UNCG 42, Samford 26
Pts off Turnovers: UNCG 30, Samford 17
Steals: UNCG 12, Samford 5
Turnovers: UNCG 11, Samford 23
The game Wednesday against the visiting Western Catamounts will be tough, but if we bring our "A Game," Western will have no chance.