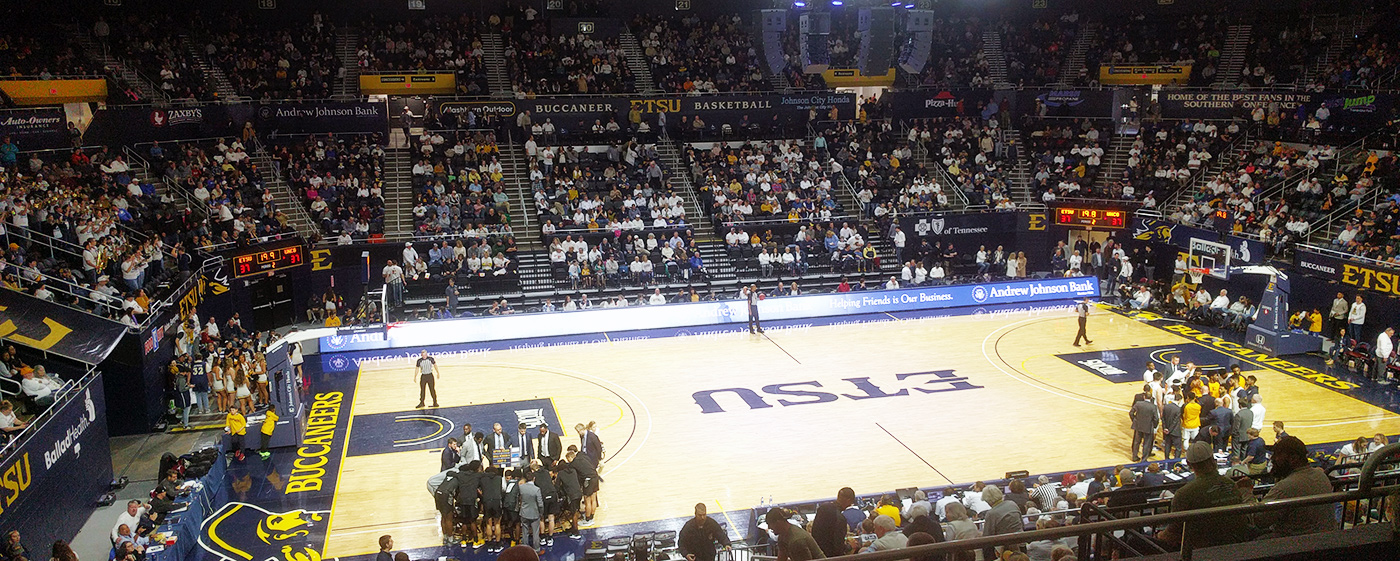 UNCG drops a game against a good team with help from some hometown reffing as the Bucs shoot 24 freethrows on the night. The refs called aberration after aberration against UNCG in the first half, awarding Oscar-worthy ETSU flops with fouls that changed the momentum of the game and ultimately changed UNCG's strategy.
After UNCG jumped out to a quick 19-5 lead in the first 6 minutes, ETSU started their engines and kept up. At the 10:50 mark, Big Mo put in a layup to make the score 23-10. But the refs would have none of that.
In the next 2 minutes, 4 fouls were called against UNCG's bigs – 1 against Big Mo, 2 against James Dickey back to back, and 1 against Bas Leyte. Suddenly the score was 23-16 and our inside defense was hobbled after only 1/4 of the game had passed.
ETSU made 10 of their next 21 points from inside the paint with UNCG bigs helpless to defend against them for fear of picking up crucial 3rd fouls.
I also want to point out that during the first half, there were 4 distinct times after ETSU made a shot, one of their players pushed the ball away from UNCG players. The last time, an ETSU player actually poked it out of a UNCG player's hands. This is important because UNCG scores a significant number of points after made shots. They sprint down the court before the opponent's defense is set, getting quick points off layups and general chaos.
The refs didn't warn a delay-of-game a single time, which allowed ETSU to continue doing it. One has to wonder if that illegal delaying was part of Coach Forbes' strategy from the beginning because it looked like a coordinated effort.
Either way, the first-half damage was two-fold: Our bigs were held back because of made-up foul calls, and our offense was held back because of illegal actions.
At halftime, the score was tied 37-37.
The 2nd half was a little more evenly whistled, with the refs screwing up calls on both ends that were obvious to anyone with eyes and a modicum of IQ. It didn't matter, though. Our momentum was killed in the first half and we were afraid to get near an ETSU player for fear of them throwing their head back to get a foul call.
The rest of the game was a series of runs by both teams, with ETSU's runs being much longer and much more profitable. They slowly pulled away to a comfortable lead as UNCG had trouble on the offensive end, scoring just 28 points. Again, UNCG thrives in chaos but we were forced to play a half-court set. We couldn't score off our defense partly because we didn't know how the refs would call anything, and partly because ETSU had figured out how to beat our press.
The refs killing us on the defensive end wasn't helped by Tray Boyd going 6-9 from 3-point range. He was on fire, scoring 30 points on the night (10-16 FG, 4-4 FT). I don't want to take away from ETSU's offense. After the first 10 minutes of the game, it got started and it won them the game. They shot 55-8% FG and 56.3% 3PT. It's hard to beat a team when they shoot that well.
Despite the refs, UNCG didn't play a bad game. But ETSU played a better game, fueled by their home-court advantage. The crowd there was loud and enthusiastic, and probably hungry after ETSU had just gotten spanked at home by Mercer on Wednesday, 71-55.
Isaiah Miller
8-15 FG (1-3 3PT), 1-5 FT, 3 rebounds, 4 steals, 5 turnovers. Zay's FTs and turnovers this game were unacceptable, but that sometimes happens. If he can improve those stats (and add some assists), he'll see his game rise to another level.
James Dickey
4-8 FG (0-2 3PT ???), 1-1 FT, 7 rebounds, 2 assists, 2 blocks. Yeah, JD shot two 3-pointers? Right. He shot one in the final seconds just to do it, but he would never shoot one during regulation. Gives you an idea how screwed up the refs were, even the one keeping stats.
Keyshaun Langley
5-9 FG (2-5 3PT), 2-2 FT, 2 rebounds, 3 assists, 2 steals. Great game by Key and I wished he had played more than 24 minutes.
Kyrin Galloway
3-7 FG (2-5 3PT), 3 rebounds, 1 assist, 1 block, 1 steal, 3 turnovers. Kyrin was the major reason we started the game so well; he was the early catalyst.
Kaleb Hunter
4-5 FG, 5 rebounds, 1 steals, 2 turnovers. Kaleb seemed to do all of his action in the background. I didn't think he had as great of a game as I first thought until I looked at the stats.
Angelo Allegri
2-5 FG (1-2 3PT), 1-2 FT, 2 rebounds. A solid game from Gelo … would have like to have seen more threes from him.
Big Mo
1-4 FG, 1 rebound, 1 assist, 1 block, 2 turnovers.
Malik Massey
0-2 FG (0-1 3PT), 1 rebound, 4 assists, 1 turnover.
Bas Leyte
4 mins – 0-1 FG.
Kobe Langley
2 mins – 1 turnover.
Michael Hueitt Jr – Did not play (sick with flu)
Khyre Thompson – Did not play.
Ryan Tankelewicz – Did not play.
Game Summary
For the first time in a long time, we lost the turnover battle — we had 14 to their 13. We were only 5-10 from the FT line and I was very proud no one on the team picked up any technical fouls for some of the BS they had to endure. We also lost the rebound battle horribly, 25-36. Fouls? Don't get me started … we had 21 fouls called on us versus 13 on ETSU (14 of our fouls were called in the 2nd half!).
But when your opponent shoots 56% AND outrebounds you by 11, you are going to lose that game. No matter what the refs do. On those stats alone, ETSU would have beaten us without screwed-up reffing, so I don't want to take anything away from ETSU. They earned this win.