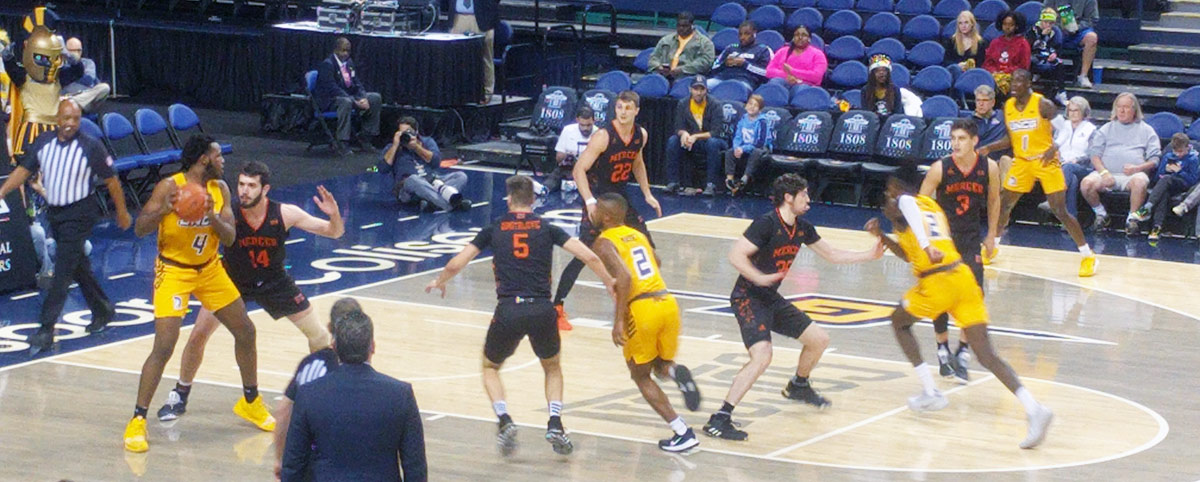 The New Year saw our first true conference test as Mercer came to town. After building an 18-pt halftime lead, 43-25, G let Mercer claw their way back into the game to get as close as 3 points on two occasions.
But UNCG held on as senior Malik Massey and freshman Keyshaun Langley went 6-6 from the freethrow line in the final minute.
The win is even more important that one would think. Senior starter Kyrin Galloway went down with a rolled ankle early in the 1st half and returned, only to sit out the entire 2nd half. The Spartans were already down starter Kaleb Hunter, Kobe Langley, & Khyre Thompson to injuries sustained in practice.
So UNCG essentially won the game despite being down multiple players. Just goes to show how deep the Spartan bench really is.
Isaiah Miller
Zay had an amazing game, going 13-26 from the field (2-5 3PT) & 3-5 FT with 4 rebounds, 9 STEALS, & 1 turnover. Did you see the part about 9 steals!!!
Big Mo
Despite missing a dunk on a breakaway steal, Mo had a great game also. 4-6 shooting, 1-3 FT, 6 rebounds, 1 steal.
James Dickey
JD pulled down 12 huge rebounds and went 2-7 from the field with 1-4 FT. Add 2 assists, 2 blocks, & 2 turnovers.
Angelo Allegri
Gelo continues to improve. 3-6 from the field (3-5 3PT), 0-2 FT, 2 rebounds.
Malik Massey
Despite a lackluster shooting night, Malik came up huge in the final minute with those freethrows. 1-6 FG (1-4 3PT), 5-6 FT, 1 rebound, 1 assist, 4 steals, 1 turnover.
Keyshaun Langley
Key was 1-2 from the field, both of them three-pointers, 2-2 FT, 1 rebound, 1 assist, 2 steals, 4 turnovers. He's showing flashes of greatness but is still struggling with turnovers as he adjusts to playing against talent much greater than he faced in high school.
Michael Hueitt Jr
Hueitt struggled a bit tonight, going 1-6 FG (1-4 3PT) with 3 rebounds.
Bas Leyte
1 assist, 1 turnover.
Kyrin Galloway
Kyrin played about half of his time while injured, and his stats show it. 1-4 FG (0-3 3PT), 1 rebound, 1 steal, 2 turnovers.
Kobe Langley – Did not play (injured).
Khyre Thompson – Did not play (injured).
Kaleb Hunter – Did not play (injured).
Ryan Tankelewicz – Did not play.
Game Summary
Down what felt like half the team, UNCG still pulled out a victory. That says a lot.
UNCG recorded 17 steals to Mercer's 6. You'd think Socon teams would be ready for us, so it always surprises me when our defense can dominate a decent team that sees us at least twice a year.
Hopefully our "K" squad (Kobe, Kyrin, Kaleb, Khyre) can heal up for the Wofford game in Spartanburg this Saturday. It's gonna be a tough one.