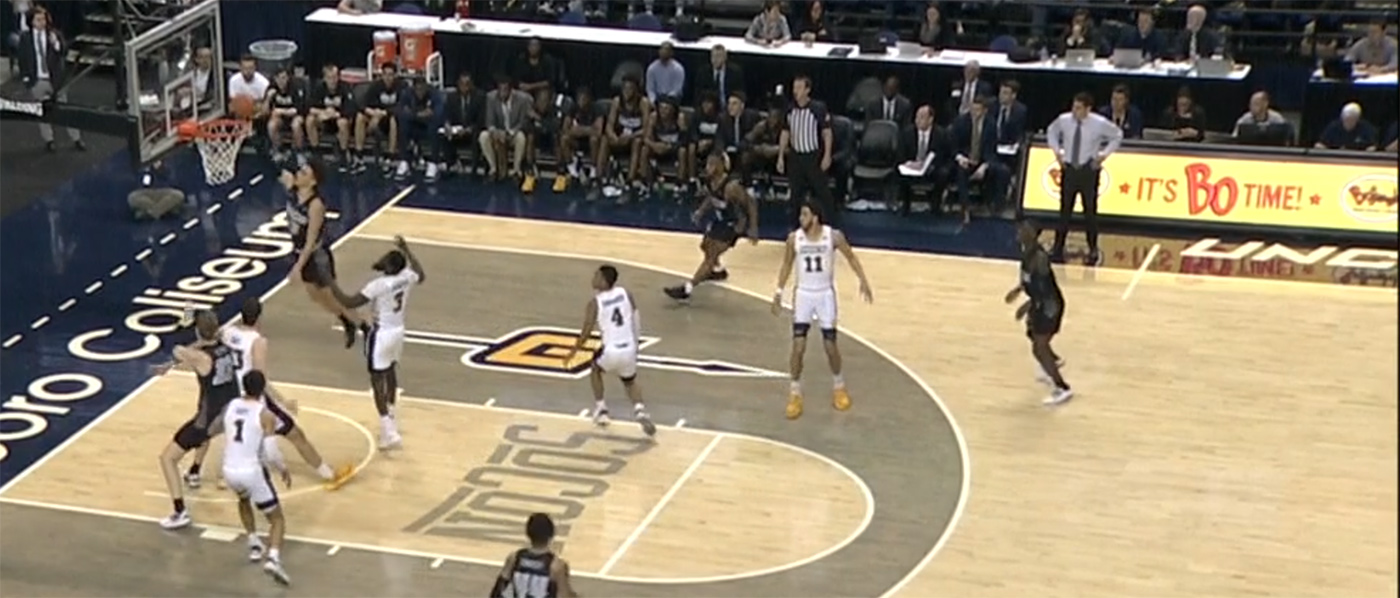 UNCG blew a 9-point halftime lead to let Chattanooga tie the game at 42-42. Chat took a 1-point lead at 46-45, but that was the last time they'd see an advantage as UNCG routed them for the final 10 minutes en route to a 20-point victory.
Angelo Allegri
Gelo has embraced the starter role like a champ. In 24 minutes, he went 7-10 FG (1-3 3PT) & 1-3 FT with 6 rebounds, 1 assist, 2 turnovers.
Isaiah Miller
Isaiah put in another stellar game going 12-23 FG (1-2 3PT), but freethrows continue to an up-and-down thing for him as he went 1-5 from the line. 5 rebounds, 3 steals, 2 assists, 2 turnovers round out his play.
James Dickey
JD continues to dominate the boards as he hunts down Kyle Hines' record mark of 1047. After this game, Dickey sits at 942 with only Ben Stywall's 961 separating him from 2nd place. With 11 games and the Socon Tourney still left, I'll make the prediction that James will become UNCG's all-time rebound leader. 3-5 FG, 0-2 FT, 12 boards, 1 assist, 1 block, 2 turnovers.
Big Mo
Not a great night for Mo, but not a bad one: 1-3 FG, 3 rebounds, 1 turnover.
Kaleb Hunter
Kaleb struggled a little last night. 2-6 FG, 2-5 FT, 4 rebounds, 2 steals, 3 turnovers.
Malik Massey
Steady night for the senior guard: 3-8 FG, 1 rebound, 2 assists, 2 turnovers.
Michael Hueitt Jr
3-6 FG (2-4 3PT), 3 rebounds, 1 steal.
Bas Leyte
1-1 FG (1-1 3PT), 2 rebounds.
Kobe Langley
1 rebound & 1 steal in 6 minutes.
Keyshaun Langley
0-3 FG (0-1 3PT), 2 assists.
Khyre Thompson
Played 3 mins and went 0-1 3PT with 1 rebound.
Ryan Tankelewicz
Played during the final minute.
Kyrin Galloway – Did not play (injured).
Game Summary
We had been making strides from the charity stripe each game … going 18-24 (75%), 10-17 (59%), 13-16 (81%), 12-16 (75%) the last four games … but we went only 3-12 this game for an embarrassing 25%. Missing freethrows will lose us close games. I can only hope that this game was a blip.
Other than that, this game was a positive step in the right direction to get us dancing in March.
Rumor has it that Kyrin Galloway may make his return to the court next Saturday at Samford. While we wouldn't "need" him for that game (I expect a 20+ point blowout), it would be nice to see him get a few minutes before we head to Western the following Wednesday.