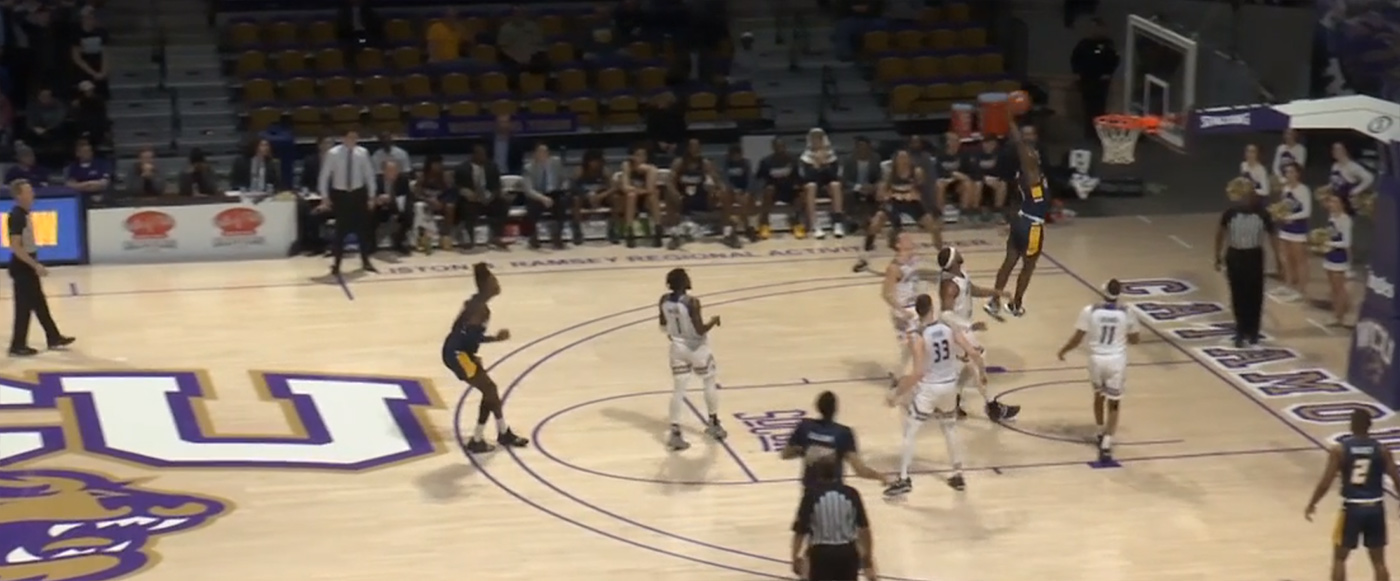 First off, Western students are horrible. They are uncouth, classless, & unimaginative in their insult hurling. Not a lot of English majors in the crowd. The building security is lax at best because several times we had to ask "the little girl" who "secured" the visiting section if the students are "allowed to do that." Each time she told us she'd have to go get someone, and it would be 5 minutes later for someone with balls to show up.
Also, as we were leaving, the same "security girl" and some other "security kids" were cleaning up the student section behind us, tossing liquor bottles in the trash. Nice look, Catamount students. I'm eager for you to enter the real world so you can "contribute" to society.
Other than that, the 3.5 hr trip to little Cullowhee was worth it. The guys put on a great show (especially in those final 6 minutes).
After an up-and-down first half, Western commanded an 11-point lead with 13:47 to go in the game. UNCG slowly chipped away at it until they tied it 54-54 on two free-throws from Malik Massey with 7:23 to go.
But the final minutes were all UNCG as the Spartans went on an 18-4 run to close the game, fueled by a frenetic pace full of steals, forced turnovers, and fast-break points. How's that for alliteration?
And you MUST see the Isaiah Miller dunk with 2:37 to go. It's Sportscenter-worthy!
Isaiah Miller
9-20 FG (2-6 3PT), 3-4 FT, 9 rebounds, 2 assists, 2 steals, 3 turnovers. Isaiah was being Isaiah.
James Dickey
3-6 FG, 12 rebounds, 3 assists, 1 steal. This effort puts JD 1 rebound shy of 2nd place in UNCG's Rebounding Record holders. When he got the ball down low in a 1-on-1 situation with Dotson, 80% of the time if he'd spun right with a quick move, he had an open layup. Maybe he'll read this.
Kyrin Galloway
6-14 FG (3-11 3PT), 1-2 FT, 1 rebound, 3 blocks, 1 turnover. His shot is still there, just needs to improve his accuracy a tad.
Big Mo
3-3 FG, 2 rebounds, 3 steals. When Mo got it in his head he wanted to ball to score, he did it with ease, maneuvering around defenders like they were practice cones.
Angelo Allegri
3-8 FG (2-7 3PT), 4 rebounds, 3 assists, 1 steal, 1 turnover.
Michael Hueitt Jr
1-3 FG (0-2 3PT), 1 assist.
Keyshaun Langley
2-6 FG (1-5 3PT), 4 rebounds, 3 assists, 1 steal, 1 turnover.
Malik Massey
1-5 FG (1-4 3PT), 2-2 FT, 2 rebounds, 1 assist, 2 steals, 1 turnover. Made his freethrows and his only three at the crucial time in the 2nd half that started our run.
Kaleb Hunter
1-6 FG (0-3 3PT), 3 rebounds, 1 steal, 1 turnover.
Bas Leyte
Played 1 minute and got 1 steal, but injured his ankle on the same play and came out. Spent the 2nd half with a bandage on his right ankle, iced up.
Kobe Langley
0-1 3PT, 1 rebound, 1 assist.
Khyre Thompson – Did not play.
Ryan Tankelewicz – Did not play.
Game Summary
UNCG took A LOT of threes in the game and shot a horrible 23.1% from beyond the arc.  That's bad. But when you're allowed to take 39 from out there, it can work if you have other aspects working for you. I remember two distinct trips we shot 4 three-point shots after missing the first three attempts and getting offensive rebounds. Both trips accumulated zero points.
But as the old adage goes, Defense Travels. UNCG got 72 FG attempts to Western's 49. Yes, we shot 23 more times than them. And overall, both teams shot 40% for the game. There's the difference.
Other Key Stats:
Steals: UNCG 11, Western 4
Turnovers: UNCG 7, Western 17
Bench Points: UNCG 21, Western 14
Players Played: UNCG 11, Western 8
Other Comments:
Sat with Galloway's parents & grandmother. Nice people. Galloway's mom is INTENSE! That saucy Aussie knows how to yell. I wouldn't be surprised if she played rugby growing up.
Also, despite how every announcer says it, it's pronounced: KY-rin. The emphasis is on the first syllable, not the second. Believe me, I found out from the parents who named him.
Carlos Dotson is a bull in a china shop. Only he doesn't care what he knocks over. The way he lowered his shoulder and took out Dickey is a felony in 32 states. But the refs at this game saw it as either a no-call or a foul on Dickey. Go figure.
I also learned the team has started a new tradition: Cookout Milkshakes after a Road Win. Hope no one on the team is lactose-intolerant. That could make for a long bus ride home. Personally, I'm all about the Peanut Butter Fudge Milkshake. I gained 12 pounds one summer after I discovered them.
Saturday will be one of our toughest and most important tests this season, an away game at ETSU. I'll be there, I'll be drunk, and I'll be yelling hard for our Spartans … because a win Saturday will temporarily secure first place in the Socon. Plus, I love to beat ETSU.