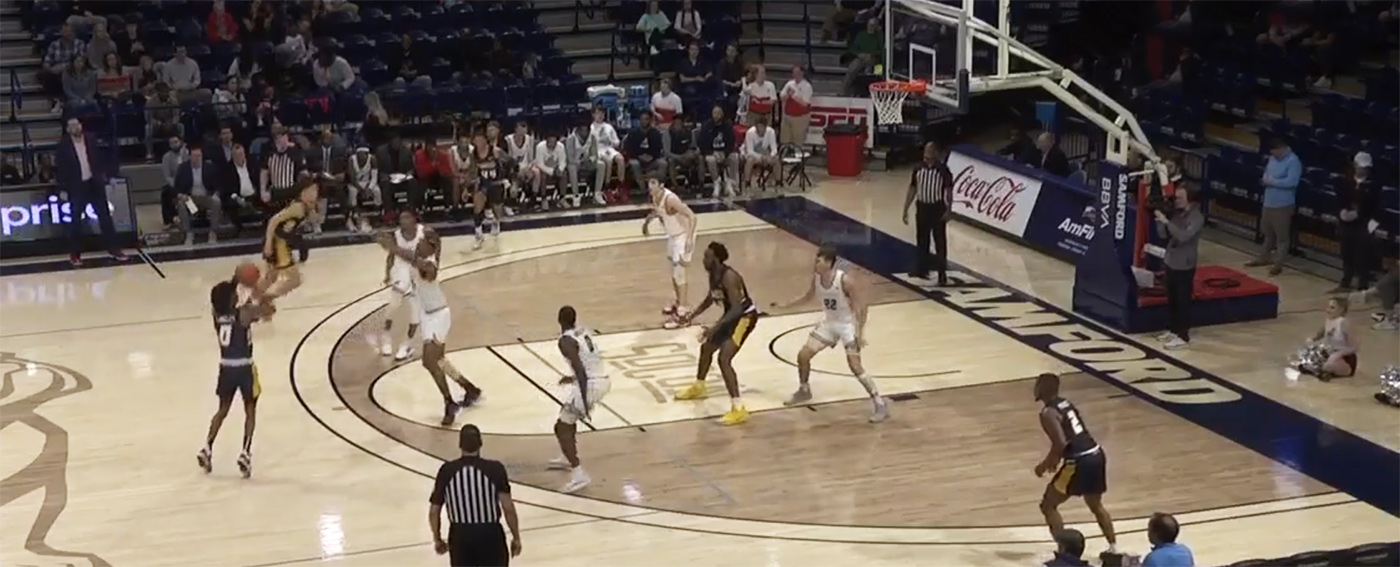 This game was at times brilliant and at other times painful. The first few minutes saw Samford break out to a 7-2 lead in an ugly game, but we made strides to close the game. At the 12:55 mark Samford took the lead for the final time,12-10. Then we opened our can of Whoop-Ass and spurted to a quick 21-12 lead during a stretch that included 3 turnovers by Samford. We closed the half off with a 7-pt lead, 35-28.
Samford came roaring out of the gate after halftime to close that 7-pt deficit to tie the game at 39-all. This was never "in the books" until the final 13 seconds when Isaiah Miller stole the ball from Josh Starkey (again) and dunked to give UNCG the final 7-pt margin.
Isaiah Miller
I'm not sure what Zay had for lunch on the flight to Birmingham, but he needs to eat the same thing every day if he's going to shoot threes and grab boards like this. Although his FG% was down a tad and he turned the ball over a little too much, the rest of his game was on. 6-15 (3-5 3PT), 2-2 FT, 10 rebounds, 1 assist, 3 steals, 3 turnovers.
But he also needs to keep the talking after baskets to nada. Save the trash-talking until the next play when the ref can't hit you with a tech for taunting. Not a good look to score 2 points and then give them back with a useless foul.
Keyshaun Langley
Keyshaun played a near-perfect game for the 12 minutes he was on the floor. 3-3 3PT, 3-3 FT, 3 rebounds, 1 turnover.
Angelo Allegri
Allegri didn't start because of Kyrin's return but he's still playing his game. Great numbers for 15 minutes of play. 2-6 (2-4 3PT), 2-2 FT, 3 rebounds, 1 assist, 1 turnover.
James Dickey
JD got into foul trouble, again, which resulted in only 22 minutes of play for him when his average is 26.7. While he was in, he did great. 2-4 FG, 6 rebounds, 1 assist, 2 blocks.
Big Mo
Only played 14 minutes but played good — 1-1 FG, 1 assist, 1 block.
Kaleb Hunter
5-10 FG (0-4 3PT), 2-3 FT, 5 rebounds, 2 assists, 2 turnovers. It's not like Kaleb to miss 4 threes in a row, but I guess it can happen. I don't expect that trend to hang around.
Michael Hueitt Jr
Michael struggled a tad at times in his 14 minutes. But he still put up respectable numbers, going 2-7 FG (2-6 3PT) with 2 rebounds, 1 steal.
Kyrin Galloway
Kyrin struggled offensively but showed why he's a viable component of the Block Brothers as he accumulated 3 blocks in his first game back after his injury.  1-7 FG (1-6 3PT), 2 rebounds, 1 turnover.
Malik Massey
1-5 FG (0-3 3PT), 2-2 FT, 1 rebound, 5 assists, 1 steal, 4 turnovers.
Bas Leyte
Played 7 minutes with no stats except 1 foul.
Kobe Langley
In 6 minutes, went 0-1 3PT with 1 rebound, 2 assists, & 1 turnover.
Khyre Thompson – Did not play.
Ryan Tankelewicz – Did not play.
Game Summary
UNCG had the opportunities to blow this game wide open, but couldn't take advantage. They're going to need to take those opportunities when they come or there will be some games dropped to better opponents.
I've come to expect our turnovers to be way less than the opponents' turnovers and steals to be way more. But this game was different than the norm.
Turnovers: UNCG 16 – Samford 16 (Starkey had 9!)
Steals: UNCG 5 – Samford 7
Pts off Turnovers: UNCG 13 – Samford 20
So we had to create advantages elsewhere:
Rebounds: UNCG 38 – Samford 28
Assists: UNCG 13 – Samford 9
2nd Chance Points: UNCG 13 – Samford 5
FG Attempts: UNCG 59 – Samford 47
Bench Points: UNCG 30 – Samford 4
So bottom line for me is that we wore them down. We're a much deeper team and bench points affirm that. They played 7 guys while we rotated 11 players with at least 6 minutes. Those fresh legs made the difference at the end of the game and probably contributed to our stellar FT shooting (11-12). Of course, Samford hit a respectable 19-23 to keep us honest.
Next up on Wednesday is a Western team that just beat Wofford by 9 at home.