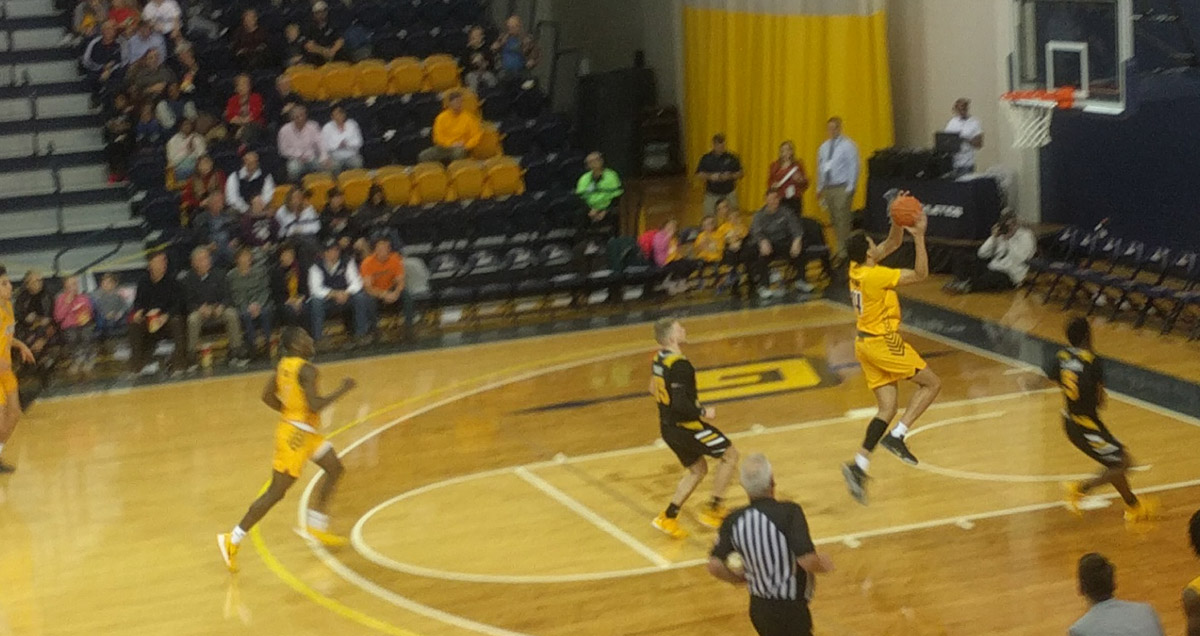 With Northern Kentucky missing their leading scorer, Dantez Walton, the Norse relied on their 2nd leading scorer, Tyler Sharpe, to score 33 of their 50 points. They had trouble with our defense (a normal thing to say this year) and no other Norse player posted double figures in scoring.
On the other hand, UNCG spread out their scoring with 8 different players adding 6 or more points. It was a good win against an opponent that should have given us more trouble than they did.
And for a game over the Christmas break, the official attendance as 648, although it felt like a LOT more than that … at least 1500. The place got loud and rocked. It wasn't a normal Christmas break atmosphere.
Michael Hueitt Jr
In 10 minutes of play, Hueitt went 3-3 from beyond the arc with 1 rebound. Excellent game!
James Dickey
JD came up HUGE again … posting 3-6 from the floor and 2-4 FT with 13 rebounds, 4 blocks, 1 assist, & 1 turnover. Also, 1 of his fouls was a pure block, so I'll give him credit for it … so 5 blocks!!
Big Mo
Mo has definitely upped his game this year, going 3-5 from the floor during our "lull." Add 4 boards and 1 assist and for 20 minutes of play, that's pretty productive.
Keyshaun Langley
After an "off" game, it was good to Keyshaun have a good one. He went 2-5 (2-4 3PT) with 1 steal & 1 turnover.
Angelo Allegri
Gelo had a little more impact this game, going 5-10 FG (2-7 3PT) with 4 rebounds and 1 turnover.
Kyrin Galloway
Kyrin wasn't on his normal game offensively … but he was there on all the other things. 4-11 FG (2-8 3PT), 4 rebounds, 3 assists, 2 steals.
Kaleb Hunter
Kaleb still a little shy on the court (and who isn't after getting injured?) … and it showed with his missed, unguarded dunk opportunity set up by Isaiah on a fast break. Kaleb would normally hit his head on the rim at times like that, but this time failed to get any height for his dunk. His numbers were still okay — 3-7 from the field (0-2 3PT), 1-1 FT, 4 rebounds. But the 4 turnovers were not good.
Isaiah Miller
Isaiah had a rare "off" game, exacerbated by the lower back injury he sustained early on when he crashed to the floor after getting blocked on a drive to the basket. He may not have been making his shots, but he helped out in other ways. 3-12 FG (1-4 3PT), 7 rebounds, 6 assists, 3 turnovers.
Kobe Langley
Finally got his first collegiate score! 1-2 FG with 1 assist & 1 turnover.
Malik Massey
Probably the worst game for Malik this year. 0-5 FG (0-4 3PT), 1 rebound, 4 assists.
Bas Leyte
Missed the one shot he took and pulled down 1 rebound.
Ryan Tankelewicz
No stats in 1 minute of PT.
Game Summary
This game was never close. It was obvious from the beginning that Northern Kentucky couldn't handle our press. Nevertheless, it was a fun game to try some new things out. Kaleb needed it to help ease him back into the lineup. Isaiah & Malik needed to get their "bad" games out against an opponent that was already under control.
Before this game, we were at a #73 NET ranking, and after beating the #119 Norse by 17, we should rise a few spots.
Next up is William Peace, a gimme game against a Division 3 opponent out of Raleigh.