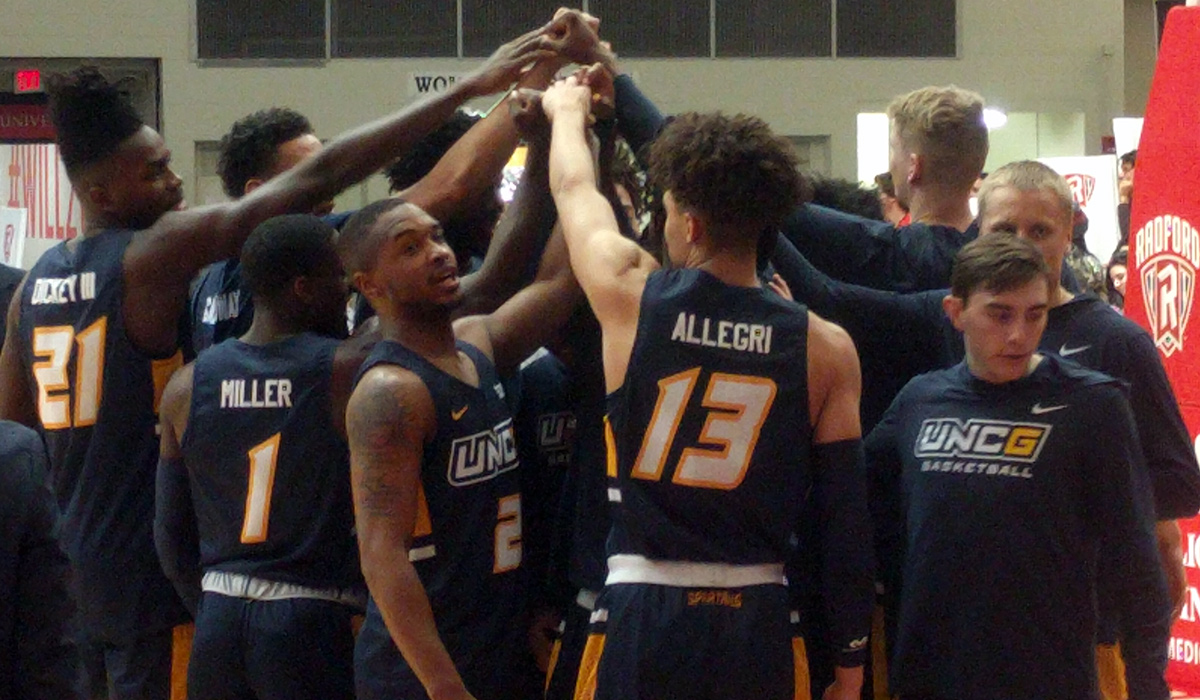 When you play a road game against a tough opponent, you sometimes do things you don't normally do, because getting the W is more important than following the game plan perfectly.
And we eked this game out despite giving Radford every chance to win.
We shot a horrid 1-7 from the free throw line, but Rad dropped the most points at the line, going 6-17.
The game came down to the final play. With a Kyrin Galloway three-pointer, UNCG took a 13-pt lead with 7:42 to go (53-40). And slowly, over the rest of the game, G let Radford whittle down that lead to a 60-58 game with 39 seconds left.
Radford put on a strong press. We inbounded to Keyshaun who dribbled out of a double-team and somehow, through crisp passes and looking downcourt, Isaiah ended up with the ball and just one defender between him and the basket. But the defender couldn't exactly commit to Zay, because Dickey was lurking at the far-side baseline. There was a 50-50 chance Isaiah would take the layup/dunk himself … and 50-50 he would pass/alley-oop to JD … something they'd already done between them a few times during the game.
This time, Isaiah took the layup but it rolled out. The whistle blew and a foul was called. Isaiah missed both freethrows, and that set Radford up for a chance to tie or win the game.
After some crazy intense defense from UNCG, Radford called a timeout with 4.9 seconds to go. When the inbounded again, the shot clock didn't start and there was a stoppage to assess the problem. Extra timeout for everyone.
The clock was reset to 4.9 seconds, Radford inbounded to Carlik Jones, a kid that had made 29 of Radford's 58 pts and gone 5-6 from 3PT-land on the night … we defended without fouling (I can't remember who it was because I was a little faint) … and the shot hit the side of the rim. We won.
It was a full thirty seconds before I could catch my breath and celebrate.
Isaiah Miller
27 points on the night going 12-21 and 3-7 from beyond the arc. His first 3 threes were golden, but he missed the next 4. The 0-2 FTs were in the final seconds and could have clinched the game. Add 3 rebounds, 3 assists, & 4 turnovers .. and it wasn't Zay's greatest game … but it was his career-best in scoring.
James Dickey
JD had another strong night, shooting 4-6 from the field, but his 0-1 FT at the end of the game … again, it could have clinched the game made the few of us that made the trek to Radford not feel dizzy on the last play. 8 rebounds, 1 assist, 1 block.
Kyrin Galloway
Kyrin was crucial to this win, going 4-8, all from 3PT range. Add 5 rebounds, 1 assist, & 2 blocks (it felt like he had 10 blocks).
Angelo Allegri
While this wasn't Gelo's greatest game, he put in some solid minutes. 2-8 from the field (2-6 3PT), 4 rebounds, 1 assist, 2 steals, 1 turnover.
Big Mo
Shot 1-2 on the night with 5 rebounds, 2 assists, & 1 turnover. I'll point out, most of his rebounds were while he was sandwiched between two Highlanders.
Malik Massey
1-5 FG (0-2 3PT), 1 rebound, 1 assist.
Michael Hueitt Jr
1-4 shooting (0-3 3PT), 1 rebound, 2 assists.
Keyshaun Langley
0-4 FG (0-2 3PT), 2 rebounds, 1 assist.
Bas Leyte
7 mins. 0-1 3PT, 2 rebounds.
Khyre Thompson
2 mins. 0-1 3PT.
Kobe Langley
2 mins. No stats other than a single foul.
Game Summary
Radford is a big team with some great shooters. They shot 47.8% from the field to our 41.7%. We won because of defense. Again.
You can shoot 41.7% if you get 30% more shots from the field than your opponent. We were 25-60 .. Radford 22-46.
We shot the ball an amazing 14 more times than the Highlanders.
Radford definitely had a homecourt advantage … as SEVERAL questionable calls were made during the game. One that I still don't understand — we caused yet another shot clock violation when Kyrin rebounded an airball, and were a few seconds into fast-break with Isaiah already dribbling the ball past the halfcourt line … and the refs blew the whistle to call the shot clock violation.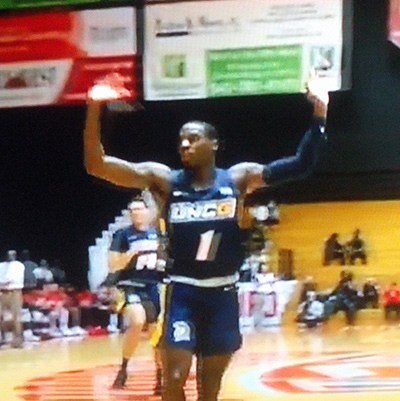 ???
I'd always learned that if the defending team already had the ball in their possession, especially for as long as we did, then play just continued. I guess it's done differently in the mountains.
And … a gorgeous block of Kyrin's was deemed a goaltending by an official. The ball had clearly just left the defender's hands and was still on the way up. Kyrin swatted it just like he does several times a game. It was a pathetic call and had no basis in reality.
Also, Zay was called for a Technical for doing the "raising the roof" motion after a dunk. It made no $%#@!& sense at all. He dunked, came down, raised the roof twice while he got into defensive position (without looking at a Radford player or doing anything that remotely looked like taunting), and the ref called a Technical.
A Radford player was nowhere near him, and he did nothing to warrant a technical like taunt or even open his mouth. He simply did the motion while he got into position. In honesty, it was very toned down from what he normally does.
Even the Radford announcers couldn't figure out why a tech was called. "Was it because of THAT?" one exclaimed upon the slow-mo replay. The other guy responded, "That's a little questionable. Didn't look like he said anything." "Wow."
It was one of the worst calls I've seen this year. And it almost cost us the game .. giving Isaiah a 3rd personal with 11 mins to go.
Next up for the G will be the toughest game of the year, NC State. We beat them two years ago in Raleigh, and now we've got them at our place. Let's hope the refs don't decide to become a part of the game and instead, stick to calling it.