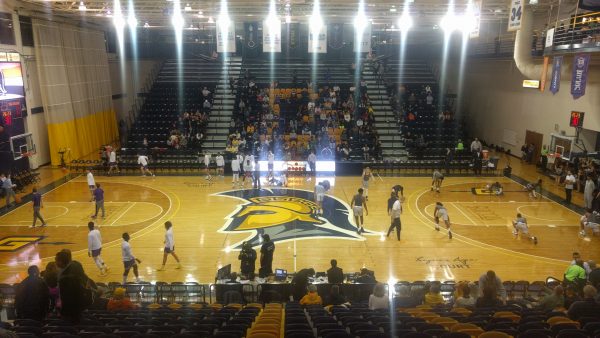 Our Defense has to be in the Top 25 of the nation. We have the ability to smother our opponents so much they need oxygen masks on the sideline. Tennessee Tech only scored 12 points in the first half, and 18 in the second. They never had a chance.
Coach Miller said early in the season that we will have the best defense every time we step on the court, and this was the worst shooting team he's ever had. I disagreed with him then, but I'm starting to see his point now. We had a LOT of open shots miss the rim completely, barely touching anything resembling a backboard. I'll say this once, "Threes should never hit the backboard. The front of the rim, the back rim, the side rim … any part of the rim. But never the backboard."
Now, having said that, I think I know why our shooting is not as good as it can be. We have GREAT shooters … but they're tired when they shoot. Because we have such a hectic, smothering defense, always moving and always pressuring, when it comes times to a half-court offense, the guys are just plain tired. This is offset by the fact our defense generates so many transition points. We turn the opposing team's negative into a positive so much that it makes up for shooting less than 30% from three-point range.
What's the solution? I'm not sure. But as long as we can blanket teams with double-teams, steals, & blocks, it may not matter much.
Also, 3-13 from the freethrow line is unacceptable at any level, even peewee league. It's embarrassing for a team as good as ours.
James Dickey
12 points, 8 rebounds, 2 steals, 2 blocks, 1 assist, & 1 turnover from the senior in his best game yet this year. He shot 6-8 from the field, but did miss both freethrows he shot. Still, this was a very good game from Dickey. Plus, during pre-warm-ups, Dickey did nothing but shoot freethrows, so I'll give him credit for working on the weak part of his game.
Michael Hueitt Jr
4-7 shooting (3-6 3PT) with 2 rebounds in 20 minutes. Hueitt is a pure shooter and is proving his worth every game.
Kaleb Hunter
Even though Kaleb only scored 9 points this game, he did so on 4-6 shooting (1-1 3PT) in 18 minutes because of foul trouble. 4 rebounds, 3 assists, & 1 steal. Statistically, in the minutes he was in, this was a very good game for Kaleb.
Malik Massey
Another solid night for the senior. 3-6 FG (2-5 3PT), 1-2 FT, 3 rebounds, 1 assist, 1 steal. Massey is probably our most consistent player (minus the Kansas game, because you're allowed one of those a season).
Bas Leyte
2-2 from the field with 2 rebounds, 1 steal, & 1 block in 13 minutes of playing time. And he was just getting warmed up before he went out with what looked like a slight ankle sprain. He walked back to the bench after a minute of gathering himself, and didn't appear to be in pain. Also, he only spent a few minutes in the back area with the trainer. So to me, that's promising that our freshman phenom isn't injured badly.
Keyshaun Langley
2-4 shooting, missing the only three he shot, with 4 boards, 2 assists, & 2 turnovers. The stats don't show how many passes he bothered and made players throw badly. I don't understand how he has ZERO steals, when he clearly made Tech turn the ball over at least 4-5 times. This is going to be one of those kids whose game is never fully shown in the stat line.
Isaiah Miller
This was a so-so game for Isaiah. He's still forcing shots and missing treys & freethrows. When you've got a guard as explosive as he can be, for him to truly reach his potential, he's got to have all his game clicking. If he can make threes with any consistency, teams will have to pull out on him. And if they do that, the opportunities in the lane will open up. And when Isaiah drives and gets fouled (and he will definitely get fouled a lot this year because NOBODY likes to be the recipient of a Sportscenter poster dunk), he's got to make his freethrows. If he shoots freethrows like he did last night, teams have every reason in the world to foul him. I would.
Bottom line, his play last night (5-13 shooting, 0-3 3PT, 1-7 FT, 4 rebounds, 2 assists, 1 steal, 4 turnovers) will not win him All-Socon team honors. Isaiah has some of the most amazing defensive pressure I've ever seen, and he brings an energy & emotion to the team that has never been on the Spartan court. But I think he's too much in his head when he's behind the arc or at the charity stripe. His 11 points could have easily been 18 if he'd gone 1-3 in three-pointers & 5-7 in FTs … both totally acceptable and doable.
Angelo Allegri
Another so-so night for Gelo. Non-existent shooting (0-4 with 3 of those misses from beyond the arc). But then you add 4 assists, 2 steals, & 1 rebound to the night … and it's not bad. But then you add the 3 turnovers … and it's not a good game when you know just how good Allegri is. He played 25 minutes (which I believe is more than normal) so maybe he had tired legs.
Kyrin Galloway
I'm mixed about Kyrin this game. His shooting was horrible (3 of his 4 games this year have been BAD offensively): 1-7 FG, 1-6 3PT, 0-2 FT. This is NOT the Kyrin from last year. Kyrin played better than this his Freshman year. Not sure why he's struggling with the ball. But defensively, Kyrin is making his presence felt on the court in a big way: 6 rebounds (5 defensive), 3 steals, 3 blocks, and a host of other defensive plays where he bothered the ball or intimidated the shooter. Defensively, Kyrin is a presence we can't do without, but he's got to fix his shooting to be a true threat on both ends of the court.
Big Mo
Mo pulled 12 minutes and is another player with a very mixed game. Offensively, he was invisible with 0-4 shooting. But he had 4 rebounds, 2 assists, & 2 steals (with 1 turnover) and it wasn't necessarily a bad game. But I wouldn't exactly call it an okay game either. He's much better than this.
Game Summary
One of the best defensive games UNCG may ever have played. We held Tennessee Tech to a measly 30 points, a school record. We clamped down with 14 steals and 6 blocks. That means we took the ball from them TWENTY times, and they only scored on ELEVEN possessions.
ARE YOU KIDDING ME?
Tech shot the ball 49 times and UNCG forced 26 turnovers. That means UNCG took away a third of their possessions and turned the majority into points (34 pts off turnovers). We scored more points off turnovers than they scored total.
That's amazing and almost completely unheard of in college basketball. Last year we averaged around 25% but last night we averaged 33% in whatever this stat is. The NCAA may have to create a new category just for UNCG.
Wait, there is one: Defensive Efficiency (thank you, Google). And right now, we're 10th in the nation.
Oh … there are some other fun stats (against D1 teams only … so no Averett game included):
Official Recap