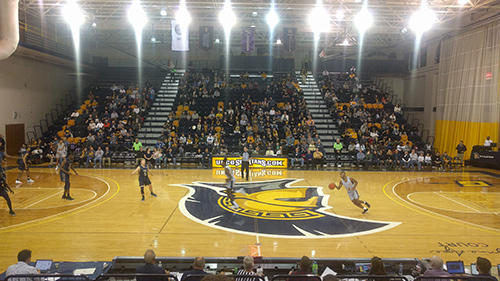 I'm not sure what to say about this game you're not already thinking. We played some great basketball … and we made some dumb errors. We played some great defense … and we made some dumb fouls. We made a lot of breakthroughs (Isaiah's swagger rejoined the team, along with Kyrin's shooting ability) … and we had a lot of breakdowns.
In the end, the difference was made by a kid from beyond half court running sideways because he was getting ready to be double-teamed (like had happened the entire 40 minutes of the game). He made a banked-in three to win. If he'd missed, a lot of our mistakes and miscues would be swept under the proverbial rug.
But he didn't.
Isaiah Miller
The Isaiah from last year finally found his way home in the 2nd half. Isaiah's 1st half was 0-6 from the field (0-3 3PT), 1-2 FT, 2 assists. Dismal. Absolutely abysmal. At some point in the 2nd half, Isaiah's swagger fought its way back onto the court. He still missed all his threes (0-2) but he went 8-15 from the field, 3-4 in FTs, 2 rebounds, 2 steals, 2 turnovers.
What was the difference? He quit trying to force the shot against a triple-team and instead, wiggled and wrangled his way around until he found an opening or eventually passed. He also scored a lot off transitions when the defense wasn't set, which is what Isaiah does best. He's not a half-court offense kind of guy. When he sticks to his strong suit, he almost can't be stopped.
Kyrin Galloway
While Kyrin didn't have a perfect game, he finally had a good one, shooting 5-10, all beyond the arc. Add to that the 3 rebounds, 2 assists, 2 blocks, and 2 turnovers … and last night was a pretty decent game. He didn't get credit on the stat sheet for all the great defensive plays where a stat isn't generated (such as denying a shot without blocking or stealing), but I'm giving him credit.
Kaleb Hunter
Kaleb had another solid night with 5-10 shooting (1-4 from 3PT range), 3 rebounds, 3 assists, & 2 steals. He made some miraculous plays and maybe even upped his Smoothness Factor by a few points (the Smoothness Factor works like your credit score: it seems to move up and down without any rhyme or reason). This will definitely be Kaleb's year to blossom if he keeps up his smart play.
James Dickey
Fouls plagued Dickey this game, and half of them were stupid fouls he shouldn't have made. But he still had a very good game. Only 2-6 shooting, but 8 rebounds, 1 assist, 1 block, and 3 STEALS. I attribute the steals with giving James some extra confidence which then made him commit the stupid fouls … looking for more steals. Stealing the ball is like taking a drug; it jazzes you up and you start to think you can do whatever you want. You have the power to take the ball from the other team! Sometimes it leads to more steals … sometimes it leads to stupid fouls. We could have used Dickey inside more this game because he made his presence felt in a big way.
Malik Massey
I'll say it again: another solid night for Massey. 4-11 shooting (4-10 in 3PTers), 0-2 FTs, 1 rebound, 2 assists, 2 steals, & 1 turnover. Not amazing, but not bad. Solid. This is exactly what we need Massey to be, someone to be counted on to provide a steady presence for the team.
Angelo Allegri
Gelo was also plagued by fouls, ending the night with 4. With 1-4 shooting (all behind the 3PT line), 2 rebounds & 2 turnovers in 17 minutes, he was a non-factor. It just wasn't his night.
Keyshaun Langley
This is one of those games Keyshaun reminds us he's a freshman, which means there will be flashes of greatness and flashes of badness. 0-3 from the field (0-2 3PT) with 0 rebounds & 2 fouls … but he also had 3 assists, 2 steals, & only 1 turnover. See what I mean? Defensively, he was on (except for that one really stupid foul) … and he made some great plays toward the basket that showed off his athleticism, but he couldn't finish, and if I remember correctly, even got blocked once. So, all in all, not a great game.
Michael Hueitt Jr
0-2 on the night, with 2 rebounds, 1 assist, & 1 steal in 16 minutes. I feel like Montana State was guarding Hueitt very closely which made it hard for him to get shots off. Also, it didn't seem like the plays were drawn up to get him the ball in a shooting situation. Not sure what was going on there, but Hueitt is a guy we need to be feeding the ball for threes. He's got the quickest release in Division 1 and hits a very high percentage. In my opinion, we lost this game because of underutilizing Hueitt.
Big Mo
The big guy was kind of a non-factor last night also: 0-1 shooting & 1 board in 14 minutes. I felt like he did more than the stat sheet is showing, but I can't remember what.
Bas Leyte
Only played 5 minutes and was 0-1 shooting, but did get a block. Not a bad game, just kind of a non-factor.
Game Summary
This game was filled with some great plays and some bone-headed mistakes: 1 minute to go, we're up 2 and have the chance to ice the game, and there's a miscommunication between Isaiah & Kyrin … Isaiah passes the ball to the scorer's table as Kyrin turns to start the motion. Turnover. Montana State comes down and gets fouled, then makes both FTs to tie the game.
Let's analyze the lucky shot at the end again. Montana State's point guard was defended by Hueitt just about has good as he could be defended without fouling him (and the kid had just made the 2 FTs to tie the game, so you DID NOT want to foul him). Frey stopped just short of being double-teamed by Hueitt and Isaiah, and launched a long shot. Sure, Isaiah was dancing after he made his bucket to put us up by 2, but he was moving into position as he danced while he faced the out-of-bounds play, and by the time the ball was thrown in, he was ready and in the same position he always is for a full-court press.
I won't fault either Hueitt or Isaiah. They were there and doing what they were supposed to be doing. Instead, I'll give credit to Frey who'd just played the ENTIRE game (40 minutes), endured turning the ball over 7 times while still hitting 6-7 of his freethrows, grabbed 7 rebounds, and even got a steal.
Frey just pulled an Alonso-at-Liberty on us.
He made the shot of a lifetime, that same shot we've all fantasized about since we were kids wearing worn-out shoes in the gym. We counted down the time out loud as our friends watched on, then we released the ball to some fake crowd noise one of the guys made through cupped hands. And miraculously, the ball went through the hoop. Everyone jumped up and down and talked about it for the next ten minutes because it was awesome. But then you forgot about it by the time you went to bed because it never really happened. It was practice. It doesn't count unless it's in a game.
And for Harald Frey, it happened for real.
If you're a true basketball fan, down deep inside, whether you're a Spartan or not, you've got to appreciate the beauty of it.