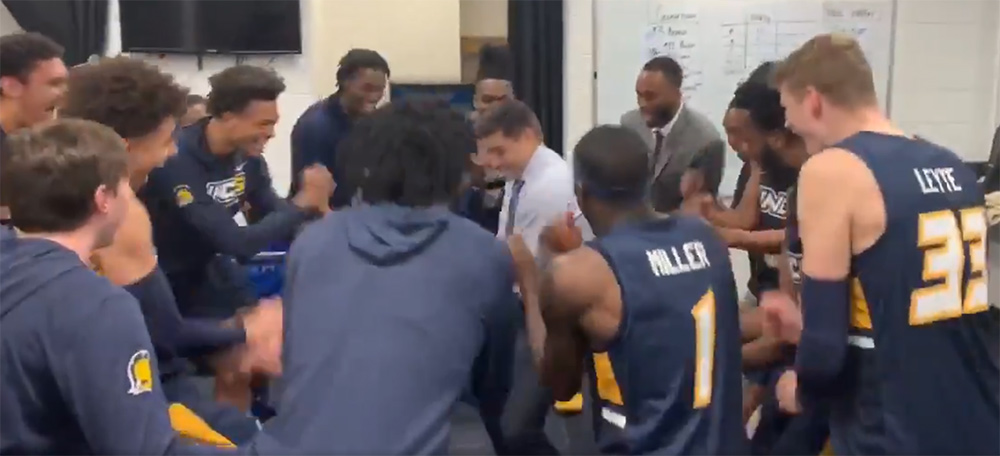 I'll be honest. I wasn't sober enough last night to write a post. No matter where we went, everyone around me knew UNCG had beaten Georgetown. I was loud, I was proud, and yes, I was probably obnoxious … in a nice way.
Defense won this game hands down. Defense created opportunities. Sometimes we took advantage of them. Sometimes we didn't.
The Dumbest Statement of the Year Award goes to Georgetown coach Patrick Ewing in the after-game press conference,  when he said, "We turned it over 19 times again … against a press that's not very aggressive."
FACT: UNCG ranks 27th in the nation in steals per game (14 against Georgetown).
FACT: UNCG ranks 8th in the nation in scoring defense.
FACT: UNCG ranks 18th in the nation in turnovers forced.
FACT: UNCG ranks 5th in the nation in turnover margin.
Keyshaun Langley
Keyshaun gets the top spot today not because he went 2-7 from the field … or his 6 rebounds, 2 assists, 2 steals, & 3 turnovers. But because he iced the game on 6-6 FT shooting, 4 of those in the last few seconds.
Malik Massey
Malik was as solid as a senior leader can be. 3-4 FG (3-3 3PT), 1-4 FT, 2 rebounds, 3 assists, 1 steal, & 1 turnover. He slowed us down when we needed regrouping, and he lit it up when we needed points.
James Dickey
5-6 FG, 8 rebounds, 2 assists, 2 blocks, & 2 turnovers. Dickey was a MAN inside against the Georgetown bigs.
Big Mo
Big Mo had his best game yet. 1-3 shooting, 2-2 FT, 8 rebounds, 1 assist, 1 block, 7 STEALS, & 2 turnovers. Wow. 7 steals? That's 7 times he kept Georgetown from having a chance at scoring.
Kyrin Galloway
2-6 shooting (1-5 3PT), 5 rebounds, 1 assist, 2 steals, & 1 turnover. On the stat line, it doesn't look like a great game. But Kyrin came up huge in the final minute of this game … blocking a dunk (which isn't on the stat sheet???), and grabbing an offensive board that allowed us to set up the game clincher.
Isaiah Miller
Zay is still getting the most attention of anyone on the team. 3-10 shooting (0-2 3PT), 1 rebound, 3 assists, 1 steal, 3 turnovers. Not a great game, but his presence was felt. His intensity picked the team up when they needed it.
Kaleb Hunter
2-4 FG, 2 rebounds, & 1 steal in 9 minutes before he went out with an injury. For the time he was in, he hinted at the type of game was about to have.
Bas Leyte
1-2 shooting. The stat line doesn't show the great defense Bas played, keeping the Georgetown bigs from moving around inside.
Angelo Allegri
4-14 shooting (1-6 3PT), 3 rebounds (all offensive), 1 assist, & 1 turnover. Doesn't look like much via the stats, but Allegri hustled on that court, and it was noticed.
Michael Hueitt Jr
1-7 FG (1-5 3PT), 2 rebounds, 1 turnover.
Kobe Langley
2 turnovers in the 2 minutes he played. Didn't help he got in right when Georgetown started its press.
Game Summary
UNCG came together as a team for its most momentous win in program history.
When Isaiah picked up his 4th foul with 13:10 to go, I looked at the guys I was with and said, "Isaiah has 4 fouls, Dickey has 4 fouls, Hunter's on the bench hurt. We need our freshmen to step up because they're going to have the chance, whether they're ready or not."
And they did. In fact, everyone did.
Yeah, we made some mistakes … and had that stretch in the 2nd half where we didn't even get the ball across half-court for 4 possessions. It subsequently blew our 7-point lead.
But Wes called a timeout with 12:09 to go and handed out a pair of big brass ones to everyone in the huddle. Everyone got them. Managers, trainers, assistant coaches, two people behind the bench.
They all put them on, adjusted them until they were comfortable, and focused on the game plan it would take to finish this game out.
And when the Spartans took the floor after that timeout, you could hear the clanking all the way down in Greensboro.
Stats Official Recap  Video Highlights  Video Highlights  Press Conference