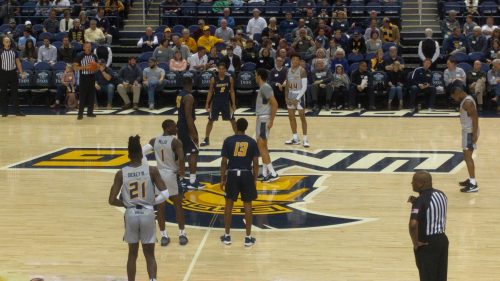 This game felt a little like your friends holding your little brother down while you give him purple nurples and wedgies. Everyone on the team played great.
The only negative I could find that was Isaiah still getting smothered from doing his thing. Teams are onto him this year. He's a known quantity with LOTS of pre-season press coverage, some of it national. He's become a magnet of sorts for teams to focus on, which is one of the reasons Kaleb Hunter has been killing it each game (Kaleb is also doing well because he's that good).
Isaiah has got to find a way to use opponents' double teams on him against them. He did some of this last night with some smart passes. If he can get that three to drop with regularity, defenders will have to pull out on him, and that will free him for some old style give-and-gos.
Kaleb Hunter
24 POINTS with 8-9 shooting, 1-2 from three-land, and 7-7 FTs. Add 3 rebounds and an assist and Kaleb has become a man. That's three games in a row Kaleb has come out with his smooth style and played like a champ. He needs to be prepared for teams to "discover" him like they have Isaiah this year. I suspect by the time we get to Socon play, he will start to get double-teamed also.
Michael Hueitt Jr
14 points on 5-8 shooting, 4-7 on threes. He also grabbed 3 boards and has now solidified in my mind as a replacement for losing Alonso. His game is different than Alonso's, but that super-quick release and accuracy will make up for it.
Angelo Allegri
Solid showing for Allegri last night on 4-8 shooting (3-7 from beyond the arc). He also sunk 3-4 freethrows, which is huge in my opinion. As a team, we should be 75%+ from the freethrow line. He had 2 turnovers but also had a block and a steal. His 3 rebounds also played big from a guy who spends most of his time 22 feet away from the rim.
Big Mo
HUGE game for Big Mo. 4-5 shooting with 5 rebounds and a block in 10 minutes of playing time. The only negative was going 1-3 from the charity stripe. Oh, and he DUNKED! He never dunks, not even in practice. I'm not sure I've ever seen him dunk. But that dunk tonight was made with authority. Could Big Mo be gaining confidence on the court? It seems so.
Keyshaun Langley
Good night for Keyshaun. 4-6 shooting (only 1-3 from trey-land), and 2-2 on freethrows. With his ~90% freethrow shooting in high school, I expect him to get to the line a lot and add points. 4 assists, 2 turnovers, and 6 STEALS! Yes, the Keyshaun I saw on the high school court is finally showing himself in a Spartan uniform. He's picking up his intensity more and more with each game, and if you notice, he does so with no emotion.
Whether he steals the ball or turns it over, his face remains placid. But I know inside, he's pushing himself to get better. Keyshaun and Kobe are like emotionless versions of Isaiah with the same skill set (remember Keyshaun's steal last night by grabbing it from 8 feet in the air as the defender tried to pass over him?) Expect Keyshaun (& Kobe) to learn from Isaiah and build on it.
James Dickey
4-6 shooting and 2-4 FTs, with 9 rebounds, one shy of a double-double. Add 5 ASSISTS, 1 turnover, and 3 blocks, and Dickey had helluva night.
Kyrin Galloway
The Kyrin Galloway we all know and love has begun slowly making his way back onto the court. 2-6 shooting (2-5 3PT) with 1-2 FTs. 1 assist, 1 turnover, 3 blocks, and 1 steal. He's not quite putting up the numbers in points he was last year, but this game showed his intensity is still there. Not sure what he needs to get his accuracy back, but he's still pulling his weight on the court.
Isaiah Miller
4-6 shooting (0-2 threes) and 0-1 FTs. 8 ASSISTS and 2 steals show that Isaiah is adjusting to the attention and pressure opponents show him now. But the 5 turnovers show that he's still trying to force the ball in when he gets double-teamed, sometimes triple-teamed. He's got to find his balance again before he can have the freedom to do his thing. 8 assists is a step in the right direction. Once teams learn he's just as deadly when he passes, they'll have to back off some … and then the Isaiah with poster dunks will be let loose again. If he can get that 3PT accuracy back he showed glimpses of last season, he'll have the complete game.
Malik Massey
Recovering from his bad game at Kansas, Malik shot a solid 2-5 (0-1 3PT) with 2-3 FTs. Add 2 rebounds, 3 assists, 1 turnover, and 1 steal and you've got a very good performance from our senior point guard. Any point guard that can shoot 40% and give you assists is going to cause opponents heartache.
Bas Leyte
Another solid outing from Bas Leyte: 2-2 shooting, 1-1 3PTers. But only 1-3 FTs. 2 rebounds, 1 turnover, 1 steal. He's a freshman, but he's a freshman who is giving us some solid minutes that make us a VERY DEEP team.
Game Summary
We played a team we should have beaten badly, and we did. We showed how deep we are as a team … and some of the guys showed how they are emerging into great players. The exact game we needed after a frustrating loss at Kansas.