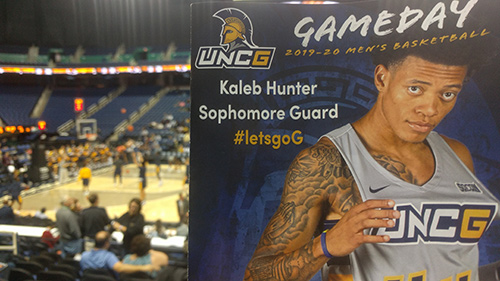 Once again, defense won this game. Because it sure wasn't offense. We shot 32.8% for the game, 31% from three-point-land, and 33.3% in freethrows.
And in that mix, we had FIVE Spartans commit OH-fers with an amazing 0-15 shooting. Our games are getting uglier and uglier to watch, but they're damn exciting.
At one stretch early in the 2nd half, we missed almost every shot we took, but we clung to a double-digit lead because we also kept App State from scoring. And that is going to be key to us winning games this year, that defensive intensity to ride out our offensive lulls.
Keyshaun Langley
Keyshaun played the best game of his college career, shooting 4-7 (3-5 3PT), with 2 rebounds, 1 assists, 1 steal, & 1 turnover. He may not have had the most points (11), but he was definitely the most efficient, only playing 17 minutes.
Kyrin Galloway
It appears that Kyrin has fought his way out of his senior season slump after going 4-7 on the night (2-5 3PT) and 1-2 FT. Although he turned the ball over 3 times, he garnered 6 rebounds, 3 blocks, & 1 steal. He is a force inside that makes it very difficult for opponents to drive and lay the ball up.
Kaleb Hunter
Not Kaleb's best shooting night (6-11 FG, 1-5 3PT, 1-2 FT). Also not the best night of him handling the ball with 3 turnovers. But he got a steal and 10 rebounds while providing some plays that jazzed the crowd up and surged some energy into the team, especially during that 2nd half explosion. Sometimes, it's those incidentals that matter just as much as what gets on a stat sheet.
Isaiah Miller
Zay is still taking a LOT of bad shots, shots that don't hit anything after they leave his hand. And I mean "hand." He has developed a running one-hander much like Demetrius Troy had started shooting. The difference is that Troy used it sparingly when he drove and defenders pulled off him because he was also an assist-wizard. Isaiah hasn't built that reputation of assists yet, so he's getting double- and triple-teamed, and that makes it hard to get a groove going.
As a result, a LOT of those one-handers are coming up short because he has no steam built up on the drive. Shooting 6-21 is not good, although shooting 2-5 from 3PT-range is. He shoots those with a nice fluid motion and 40% is acceptable. 0-2 FT is not. But 6 rebounds, 2 assists, 3 steals, & 2 turnovers isn't a bad way to round out your stat line.
I know it seems like I'm being hard on Zay, but he's so much better than he's playing. He trying to do too much himself and making TONS of bad shots in the process. Shots that have no chance of going in. And when you have talent surrounding you like he does, I feel like he should focus on building his Assist column until the lane opens back up. Because it will if he gets in the habit of rewarding his teammates with open looks.
Malik Massey
2-6 shooting (1-4 3PT), with 1 rebound, 1 steal, 2 assists, & 1 turnover. Not great, but not horrible. Steady. Malik is definitely the most consistent player on the team.
James Dickey
0-5 on the night, but grabbed a team-high 12 BOARDS. Add 4 BLOCKS, 2 assists, & 1 turnover to it and it was a great night defensively for the big guy. Not his shooting night, though.
Michael Hueitt Jr
0-3 in ten minutes of playing time. But he added 1 rebound, 2 assists, 1 steal, & NO turnovers. Hueitt is guarded much closer on the perimeter than any other member of the team, so he's going to have to start working sooner to get open like Alonso did.
Bas Leyte
0-2 shooting (0-1 3PT) with 1 assist & 1 steal in 7 minutes.
Angelo Allegri
0-3 FG (0-1 3PT) with 1 rebound in 12 minutes.
Big Mo
0-2 shooting with 1 assist in 14 minutes.
Game Summary
This game could be summed up in one word: UGLY. You could also use another word: WIN. And at the end of the season, the numbers by our name won't read 25 Uglies, 4 Pretties … it will read with Wins and Losses. So even though the team is not shooting well, we're holding Division 1 opponents to an average of 52.4 points a game.
We're also doing other things:
I think you get the picture. Our Defense is Amazing … our Offense is not.
The trick to making this a special March will be learning how to bring the offense along while keeping the defensive intensity. We've got the talent; now we've just got to figure out how to do it.