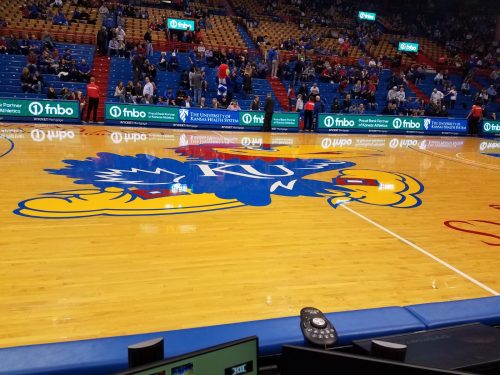 Disappointing loss. What killed this game was missing freethrows (6-13) and missing OPEN shots (8-31 3pt). Kansas missed their open shots in the first half, but they're the #3 team and they don't get there by missing them the entire game. Their light finally came on and they started dropping buckets. AND they went inside for some easy layups and dunks.
UNCG, however, had a hard time finding the bottom of the bucket. We shot 26.3% from three-land in the first half, and 25.8% in the 2nd.
Yet we only lost by 12.
Defense saved us from a blowout, but any team that doesn't hit open shots will lose.
Kaleb Hunter
Kaleb is finding his stride. This looks to be a breakout year for him. He just seemed to be in the right place at the right time. Except for early in the game (when NO ONE was hitting except Zay), he was solid. 7-10 shooting (1-1 threes), 2-4 FT, 12 REBOUNDS, 2 steals. Only Spartan in double-digit rebounds. Great game for Kaleb against a level of competition we won't see again this year unless we make the tournament.
Isaiah Miller
First-Half-Isaiah is the Zay we all know he can be. Second-Half-Isaiah is the Zay who gets double-teamed and smothered by a Kansas defense that did their best to shut him down. He went 3-4 on FTs but managed no steals. His game was up and down, like his shot selection. At times, he forced the action when there was no need. Still, Zay finished with 19 pts against one of the best teams in the nation.
Bas Leyte
2-3 shooting, 1-1 of that from beyond the arc. He must have been on the line for one of those shots, because I thought he had 2 threes. Add 2 rebounds and a steal to his stat line and this is very impressive for 7 MINUTES of playing time in his 2nd college game. And against Kansas. Bas showed Spartan fans what the future could hold.
Michael Hueitt Jr
2-5 3PT shooting, but 0-3 on FTs. This is unacceptable from a pure shooter like Hueitt. 2 rebounds and 1 assist. Not a bad night, but not a great one. Probably could have used more minutes to make a bigger impact.
James Dickey
Impressive 3-4 shooting against a big team. But a team-high 4 turnovers and only 3 rebounds tarnishes the night. 3 assists and a block round it off to a not-bad-night for Dickey. He showed flashes of what he could be, and showed flashes of the Sophomore James Dickey. He will flourish by the time we get to Socon play.
Angelo Allegri
So-so night for Gelo.1-3 in treys, 1 rebound, 1 turnover, 1 steal in 18 minutes. He just wasn't involved enough in this game.
Big Mo
8 minutes in his first game this season after sitting out with injury. 3 rebounds, 1-2 FT, 1 assist.  Not a bad game. Should get better as he gets his feet under him a bit more.
Kyrin Galloway
Another bad night for last year's highest percentage shooter. 1-7 FGs (1-6 3PT). 4 rebounds, 1 assist, 1 turnover, 1 block, 1 steal. Not a bad game except for missing threes.
Keyshaun Langley
Not a good night for Keyshaun either. At times he looked fearless, then he looked frantic. 1-5 shooting (0-4 threes) with 3 assists.
Malik Massey
Probably the worst game of Malik's career. 0-7 shooting (0-5 3PT). 1 assist, 1 turnover, 1 block. Malik is usually the bedrock of consistency, so let's chalk this one up to "just a bad night."
Game Summary
We stood toe-to-toe with Kansas for the majority of the game with our defense making up for lack of offense. But Kansas figured out how to frustrate Isaiah and came alive on offense. We closed the game strong in the final 6 minutes, cutting the lead to 10 after being down as much as 21. But it wasn't enough.
Bottom line: we had a chance to come home with a victory, but couldn't take advantage of the opportunity when it was presented. So instead, we come home with a list of things to work on.