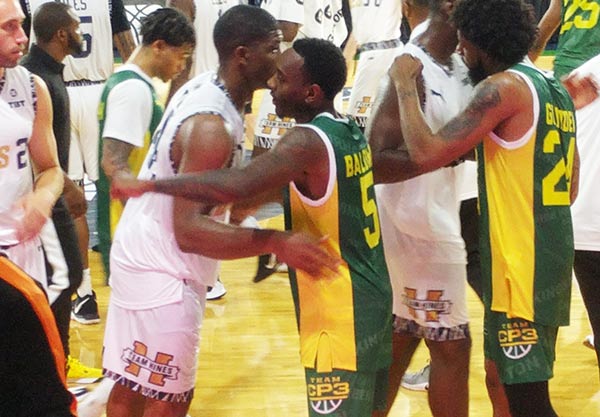 In the summer of 2019, TBT (The Basketball Tournament) came to town for a few regional games. If you don't know, the TBT is a professional basketball tournament where the winners take home a prize of $2 million dollars. As you can expect, a lot of real talent enters this competition.
Among the teams that played in Greensboro, former Spartan Kyle Hines brought a team of his own, and Diante Baldwin was an integral part of Chris Paul's CP3 team.
I wasn't able to make it to any games until the final Greensboro contest, where #1 Team Hines was taking on #2 CP3. It promised to be a heated match where the winners took home 25% of the gate and advanced to the TBT Final Four in Chicago.
Before the game, the guys and I found some nice seats 2 rows up behind the scorer's table about halfway between the benches. I was there to pull for two former Spartans, and even though my money was on Hines to win, I wasn't going to be disappointed in who advanced.
As they were warming up, Diante looked over in my direction and made the international symbol for food–bringing his hand to his mouth repeatedly. Then he mouthed, "Get me some chocolate."
I was wearing Spartan gear and surely that was how he recognized me. That and all the away games I went to over the years. He didn't know me by name, but he knew I was a Superfan. I felt privileged. Out of all the people in the fieldhouse, he'd chosen me to get him some chocolate. But wait, did I get that right?
I raised my eyebrows and cocked my head–the international symbol for, "Can you repeat that?"
He made the sign again, more insistent. "Get me some chocolate."
Sure, I thought. I got you, man. You need that pre-game boost of cocoa and sugar. I've been there before.
I nodded and mouthed, "I got you."
I started to stand, and that's when Diante's girlfriend rose in front of me. She grabbed her purse and hurriedly scooted out to the aisle and down the steps.
I cleared my throat and looked at the guys I'd come with. They hadn't noticed a thing, engaged in a conversation of their own, pointing at a player they recognized.
I straightened in my seat and turned back to Diante. He continued stretching, glancing up every now and then to see if his girl had come back with the chocolate.
The game between Team Hines and CP3 was as competitive as promised, with Team Hines edging out CP3 73-68 in the end. Both Diante Baldwin and Kyle Hines played great, giving their all to will their teams to victory.
And as I watched the game, I mused to myself about the whole chocolate incident. I thought that if Diante ever needed me to grab him some chocolate in the future, I'd be there for him. I had his back.
And now every time I eat a piece of chocolate …